Unleash the Greatness in You

Strategic Minds and Associates, LLC's mission is to motivate, inspire, and empower clients to become fully functioning by maximizing their full potential in every facet of their lives. Our vision is for clients to live an abundant life, adopting strategies and techniques that allow clients to live a prosperous holistic lifestyle, fostering interpersonal growth, self-exploration, and self-examination. Hence, they become the best version of themselves. We are confident in implementing evidence-based approaches to coaching and consulting using motivational interviewing techniques, mindfulness, language, visualization, and positive affirmations. Our approach is grounded in the spirit of motivational enchantment, acceptance, and meeting clients where they are, modeling compassion, empathy, credibility, and authenticity. Our coaches and consultants acknowledge that clients are born with innate abilities and extraordinary potentials that dwell in the core of their being. We use open-ended and thought-provoking questions that will help clients resolve ambivalent feelings and insecurities to find the intrinsic motivation necessitated to become empowered to change their language, thinking, and behavior to accomplish their professional and personal goals. Forget about transformation. Our clients have a metamorphic experience. Metamorphosis can happen in-person, online, or via telephone. At the end of our conversation, we provide a detailed summary of what our client and coach or consultant discover in-sync and make definitive recommendations about how the client can move forward in their health, wellness, life, business, academics, or career. From ordinary to extraordinary, your life deserves a strategic mind working for you.

We metamorphose our clients' lives strategically, so we have invested in being the leading source of inspiration, empowerment, positive change, and motivation. We are a professional service provider that challenges purpose-driven clients to embrace the obstacles in life as they achieve excellence. We provide services to individuals, teams in education, businesses, and diverse organizations by implementing best practices in the perspective discipline via training, workshops, coaching, and consulting. Our clients are empowered to develop and execute strategic breakthrough solutions, resulting in self-efficacy, efficiency, productivity, and personal and professional development and advancement. Strategic Minds and Associates, LLC has only one blueprint – success! Facilitating our clients to accomplish their vision is our mission. Our clients work hard to attain and maintain what they value in life. They deserve a strategic mind working by their side every step of the way.
Strategic Minds and Associates, LLC – Don't Change Your Vision - Change Your Mind
Meet Your Strategic Partner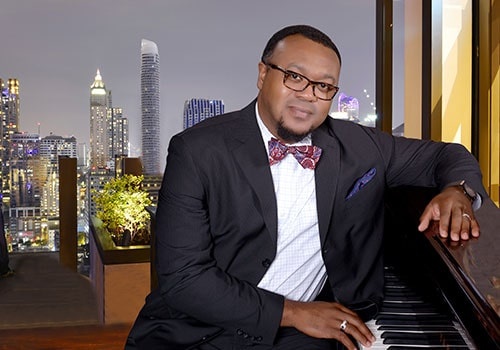 Kevin Johnson is a passionate and experienced education and curriculum leader with a demonstrated history of working in the academic industry. For nearly two decades, he has been a servant leader in higher education in various positions, including coordinator of multicultural affairs/ educational support services, academic and career advisor, college instructor, budget manager, grant writer/manager, college guidance counselor, and a transitional coach.
Kevin's educational training affords extensive knowledge in curriculum development, learning theories, and experiential teaching and learning. His current studies grant his abilities to assess students' learning and behavioral challenges, recommend parenting techniques, and evaluate students' intellectual exceptionalities to determine the best method to educate them.

Kevin is a Professional Certified Health, Wellness, and Life Coach, a field advocate for the American Foundation for Suicide Prevention. He is a Youth and Adult Mental Health first aider and a certified Adult Mental Health First Aid instructor, certified by the National Council for Behavioral Health. Kevin's specialty lies in the sector of Mental Wellness, Healthy Living, Education, Intrinsic Motivation, Mindfulness, and Self-Actualization.
Also, he teaches college courses in psychology, success skills, and critical thinking, and character development. His lifework has recently accepted the undertaking to stomp out bullying, prevent suicide, and remove the stigma of mental illness by bringing awareness to school systems, college institutions, businesses, and other organizations that serve and interact with a diverse population.

Kevin is the founder of YouBeThe1.Org, a 501 (c)(3) nonprofit organization and founder of DBSA Central Georgia, a support group for people with depression, bipolar, or mood disorders. He is currently enrolled in Liberty University's Doctor of Education in Community Care and Counseling, with a cognate in traumatology. He received his Associate of Arts in Education from Middle Georgia College, Bachelor of Science in Middle Grades Education from Mercer University, and Master of Education in School Psychology from Georgia Southern University.
If you would like to experience metamorphosis through coaching, workshops, seminars, empowerment speeches to breathe new life, empower, and transform audiences, please contact Strategic Minds and Associates, LLC for more information and professional materials. From ordinary to extraordinary, your life deserves a strategic mind working for you.

Change the Trajectory of Your Life

A strategic mind is thought-provoking, innovative, creative, productive, and result-oriented. Partner with us, and we guarantee to give you specialized training,
consulting, and coaching
that will transform your thinking so that you can change your behaviors that will change your life. Give us a call or send us an email. We have staff ready to get you started. At Strategic Minds and Associate, LLC, your best is yet to come!